A couple of years ago I was given a collection of beautiful lace dating from the late 1800s to 1930s. My mother in law was cleaning her grandmother's attic and set it aside for me along with incredible buttons, notions and even petticoats, hats and other clothing items from the same time span. She knew that I loved working with antique materials in my millinery creations and it was really nice of her to give these to me. I kept much of it in boxes for about a year because I was overwhelmed by the volume of it all. Then I started going through and cataloging everything and it was like opening a time capsule. So many beautiful magical things.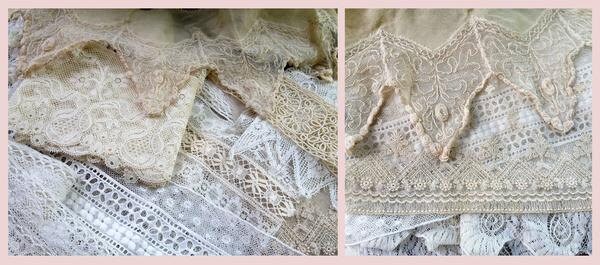 Some of the Victorian and Edwardian lace given to me by my mother in law.
Over the past year I've been working on a collection of textile jewelry inspired by and incorporating some of this beautiful lace, and my hand embroideries. I taught myself to embroider after I learned to make hats in the millinery program at Fashion Institute of Technology. I love decorating fascinators and bridal head pieces with embroidery and beading, but it takes many many hours to do. I was excited when I figured out a way to incorporate my embroidery into pendant necklaces and earrings - it's a way that I can make my work more widely available as it doesn't take quite as long to do. Each piece receives lots of love and attention and is like a little canvas on which to present my embroidery, and interesting pieces of lace. We all have some special fabrics and handmade keepsakes put away in drawers but it's nice to show off beautiful handwork too. My jewelry can be worn by brides and bridesmaids, perfect if you're looking for a unique way to include "something old" in your wedding. The pieces can be worn and enjoyed long after the day is over too, as they complement any outfit.
You can find out more about me here and see my current jewelry offerings in my web shop here. I hope you enjoy! <3 Ceci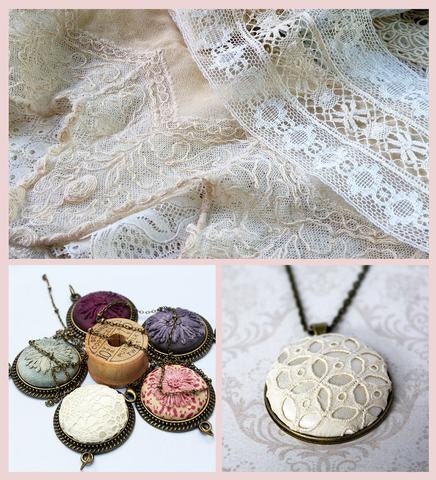 Top: Assortment of Victorian and Edwardian antique lace from my collection. Bottom Left: Ceci Leibovitz embroidered and antique lace pendant necklaces Bottom Right: Ceci Leibovitz handmade Broderie Anglaise lace pendant.